Discover Exquisite Bandhani Dupattas at Sankalp the Bandhej Shoppe!
Elevate your style with our stunning collection of bandhani design dupattas. Explore a myriad of vibrant colors and intricate patterns that reflect the rich heritage of Indian craftsmanship. Whether you're looking for a traditional piece to complete your ethnic ensemble or a contemporary twist to your outfit, we have the perfect bandhani dupatta for every occasion.
Discover Elegance with Sankalp the Bandhej Shoppe's Lavish Wedding Collection
Discover the essence of timeless elegance with Sankalp the Bandhej Shoppe's Wedding Collection. Our handcrafted Bandhani creations are designed to add a touch of magic to your special day. Whether you're seeking a lavish bridal look or opting for simplicity, our exquisite Bandhani pieces will make you radiate with bridal charm. Explore our collection today and find the perfect Bandhani to make your wedding day even more memorable.
Embrace Tradition with Sankalp the Bandhej Shoppe's Gharchola Collection
Discover the essence of Gujarati culture with Sankalp the Bandhej Shoppe's Gharchola Collection. Gharchola is a must-have saree for every Gujarati woman, perfect for adorning yourself during Pooja ceremonies and wedding functions. Our collection showcases a stunning array of Gharchola sarees, each meticulously designed to capture the essence of tradition and elegance. Embrace the timeless beauty of Gharchola with Sankalp and make every occasion a celebration of heritage and style.
Add Class to Your Style with Sankalp the Bandhej Shoppe's Designer Collection
Explore the extraordinary at Sankalp the Bandhej Shoppe with our Designer Collection. We've given a unique twist to traditional Bandhani to help you stand out. When you have a closet full of Bandhani, it's time to go for something refreshingly different. Discover the artistry of our designer pieces that fuse innovation with the timeless charm of Bandhani, making every ensemble a statement of style and sophistication.
Experience Artistic Alchemy with Sankalp the Bandhej Shoppe's Fusion Collection
At Sankalp the Bandhej Shoppe, we have a deep respect for all forms of art, and when two distinct art forms unite, they create pure magic. Our Fusion Collection is a testament to this artistic alchemy, featuring a mesmerizing blend of Ajrakh, Pichwai, Kalamkari, Madhubani, Paithani, Patola, and more. Each piece in this collection is a harmonious fusion of different artistic traditions, resulting in unique and captivating creations that pay homage to the beauty of diversity.
Our Testimonial
Sankalp The Bandhej Shoppe…a beautiful and colourful find during the lockdown…kept the lockdown blues away with their array of colourful and artistic bandhini fabrics..sarees and dupattas. Couldn't stop at one and kept going back for more. Totally irresistible! I'm based in Chennai and love their customer service too! Would totally recommend their store if anyone is looking for a variety of Bandhej fabrics and sarees.
Thank you for show casing the beautiful collection to me every single time. I love the colors and patterns. I highly recommend Sankalp The Bandhej Shoppe to my friends and family.
Hi I'm Madhuri and got Dupattas from Sankalp The Bandhej Shoppe. They have been very helpful throughout the purchase answering all the queries patiently and needless to say dupattas we're amazing. No doubt this is gonna be my to go store for bhandej.
Very nice and beautiful collections. Great quality and cooperation for Online shopping. Best place to shop.
Had visited the Mumbai branch of Sankalp Bandhej….travelled all the way from Pune, I must say it was worth the travel to buy the best Bandhej sarees and dress materials. The staff is very courteous and patient…..they have a very classy and beautiful variety….in love with this place….looking forward to visit again….also must mention…..that the finishing they do for the sarees is very neat……Thankyou team Sankalp
Loved the bandhni collection there. They have original jamnagar bandhej sarees, dress material and dupattas. Bandhej lovers must visit this place. It's a family owned shop and the people are very warm and friendly.
In the colorful bandh of beauty and trust, Sankalp is determined to serve you with the most elegant collection of Bandhani created by our very own karigaris, for all your occasions.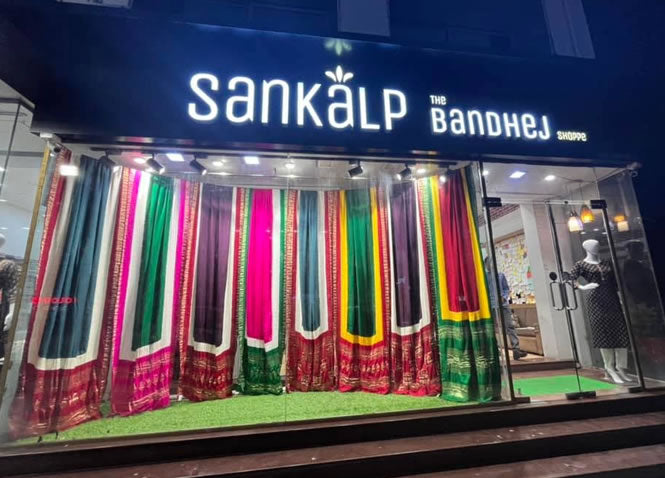 Sankalp Bandhej
Started in year 2001
" Sankalp is constantly working on uplifting this beautiful Heritage Old Art of Tie and Dye. One of our Core Value is "Respect People and Their Potential", this leads us to a mission of respecting our Artisans and we wish that these Artisans must be recognized and should get a front platform to showcase their Art.
Choosing a selection results in a full page refresh.